Sapphosophy -

POLITICS & SERVICES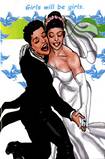 The lesbiankamasutra selct political links concerning lesbian politics and politiacl theory. Web sites containing legal information and current legislation concerning lesbian human rights.
| | |
| --- | --- |
| Displaying results 1 - 5 of 16 | |

ILGA
The International Lesbian and Gay Association is a world-wide network of national and local groups dedicated to achieving equal rights for lesbian, gay, bisexual and transgendered (LGBT) people everywhere.

gaytime
Gay magzine for men: interesting for lesbians is the 'Gay Guide UK and Worldwide' page. From about 100 countries you find a brief information about the country itself, the gay scene, legal situation and local websites.

UK Lesbian & Gay Immigration Group
UK Lesbian & Gay Immigration Group. They are a voluntary organisation providing information and advice on immigration rights for same sex couples and asylum seekers.

Women and Equality Unit
In Britain, The Ministers for Women, supported by the Women and Equality Unit, are working to make a vision of equality and opportunity for all. See thier web site for information about your civil rights.

Modern Commitments Ltd
Modern Commitments Ltd is a dynamic young company - comprising a team of fifteen specialists - dedicated to making their clients` "Special Day" one that they can really look forward to.