Short Stories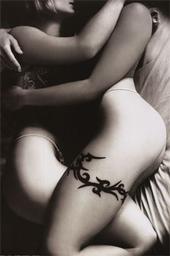 Today I thought back. I remembered looking into your eyes, smelling your skin, tasting your lips. Running my tongue down your neck to your erect nipples.
Feeling you pushing your dripping wet pussy against my thigh. You thrusting your hips against me. The feel of your clit moving up and down my leg. The sound of you moaning lightly in my ear. It?s these memories that make me want you more and more when we are apart. I can?t stop thinking about you. Thinking about how you make me feel. How you make me want you more and more everyday. I think about you at the oddest times. I wonder what you are doing and if you are thinking of me. If you are wet because of your thoughts of me and if they are anything like what I think of you.

The thought of feeling you underneath me. To run my nose and lips down your back, from those small blonde hairs on the back of your neck, down between your shoulder blades, sliding down to the small of your back. Working my way down to one of my favorite places - that soft area right above your butt. I love to nuzzle there. To feel the soft peach fuzz against my nose and lips. To slide my hand between your thighs and into you while I gently kiss the small of your back. These are the intrusive thoughts that I experience everyday. There isn?t a day that goes by that I don?t think of how we were when we first met. The look in your eyes when I entered the room. The nervousness I felt in my stomach when I saw you. The aching desire I felt throughout my body, craving your touch. Then the feeling of euphoria once I finally got it. The feel of your lips on mine. The ache of never wanting it to stop. Feeling like I never wanted that moment to stop.

We are now frequently reminded that those times are four years gone. We now have a busy, hectic life, with work and kids, school and obligations. Always busy. Never enough time. No time to slow down. Everyday I still think of those first few months, how obsessed we were. How in love we were. How completely infatuated we were. I miss those days. What I wouldn't give to go back for just a day. Then I think of how we are now. How no one else in the world knows me like you do. How no one else in the world can make me feel the way you do, good and bad, with just one look, just one word. Never have I loved someone so completely, so selflessly. Never have I experienced unconditional love. Someone to love me, take care of me, live for me. So on those days that I want to go back, I think of us now and realize those days built the foundation for these. I can?t imagine my life without you. I can?t imagine being with anyone but you. I could never love anyone the way I love you. No one will ever love me the way you love me. Thank you for choosing me.